Continuous Integration
Continuous Integration, or CI, is generally defined as "a software development practice where members of a team integrate their work frequently [...] Each integration is verified by an automated build (including test) to detect integration errors as quickly as possible."1 Simply put, the fundamental goal of CI is to automatically catch problematic changes as early as possible.
In practice, what does "integrating work frequently" mean for the modern, distributed application? Today's systems have many moving pieces beyond just the latest versioned code in the repository. In fact, with the recent trend toward microservices, the changes that break an application are less likely to live inside the project's immediate codebase and more likely to be in loosely coupled microservices on the other side of a network call. Whereas a traditional continuous build tests changes in your binary, an extension of this might test changes to upstream microservices. The dependency is just shifted from your function call stack to an HTTP request or Remote Procedure Calls (RPC).
Even further from code dependencies, an application might periodically ingest data or update machine learning models. It might execute on evolving operating systems, runtimes, cloud hosting services, and devices. It might be a feature that sits on top of a growing platform or be the platform that must accommodate a growing feature base. All of these things should be considered dependencies, and we should aim to "continuously integrate" their changes, too. Further complicating things, these changing components are often owned by developers outside our team, organization, or company and deployed on their own schedules.
So, perhaps a better definition for CI in today's world, particularly when developing at scale, is the following:
Continuous Integration (2): the continuous assembling and testing of our entire complex and rapidly evolving ecosystem.
It is natural to conceptualize CI in terms of testing because the two are tightly coupled, and we'll do so throughout this chapter. In previous chapters, we've discussed a comprehensive range of testing, from unit to integration, to larger-scoped systems.
From a testing perspective, CI is a paradigm to inform the following:
Which tests to run when in the development/release workflow, as code (and other) changes are continuously integrated into it

How to compose the system under test (SUT) at each point, balancing concerns like fidelity and setup cost
For example, which tests do we run on presubmit, which do we save for post-submit, and which do we save even later until our staging deploy? Accordingly, how do we represent our SUT at each of these points? As you might imagine, requirements for a presubmit SUT can differ significantly from those of a staging environment under test. For example, it can be dangerous for an application built from code pending review on presubmit to talk to real production backends (think security and quota vulnerabilities), whereas this is often acceptable for a staging environment.
And why should we try to optimize this often-delicate balance of testing "the right things" at "the right times" with CI? Plenty of prior work has already established the benefits of CI to the engineering organization and the overall business alike.2 These outcomes are driven by a powerful guarantee: verifiable—and timely—proof that the application is good to progress to the next stage. We don't need to just hope that all contributors are very careful, responsible, and thorough; we can instead guarantee the working state of our application at various points from build throughout release, thereby improving confidence and quality in our products and productivity of our teams.
In the rest of this chapter, we'll introduce some key CI concepts, best practices and challenges, before looking at how we manage CI at Google with an introduction to our continuous build tool, TAP, and an in-depth study of one application's CI transformation.
CI at Google
Now let's look in more detail at how CI is implemented at Google. First, we'll look at our global continuous build, TAP, used by the vast majority of teams at Google, and how it enables some of the practices and addresses some of the challenges that we looked at in the previous section. We'll also look at one application, Google Takeout, and how a CI transformation helped it scale both as a platform and as a service.
CI Case Study: Google Takeout
Google Takeout started out as a data backup and download product in 2011. Its founders pioneered the idea of "data liberation"—that users should be able to easily take their data with them, in a usable format, wherever they go. They began by integrating Takeout with a handful of Google products themselves, producing archives of users' photos, contact lists, and so on for download at their request. However, Takeout didn't stay small for long, growing as both a platform and a service for a wide variety of Google products. As we'll see, effective CI is central to keeping any large project healthy, but is especially critical when applications rapidly grow.
Scenario #1: Continuously broken dev deploys
Problem: As Takeout gained a reputation as a powerful Google-wide data fetching, archiving, and download tool, other teams at the company began to turn to it, requesting APIs so that their own applications could provide backup and download functionality, too, including Google Drive (folder downloads are served by Takeout) and Gmail (for ZIP file previews). All in all, Takeout grew from being the backend for just the original Google Takeout product, to providing APIs for at least 10 other Google products, offering a wide range of functionality.
The team decided to deploy each of the new APIs as a customized instance, using the same original Takeout binaries but configuring them to work a little differently. For example, the environment for Drive bulk downloads has the largest fleet, the most quota reserved for fetching files from the Drive API, and some custom authentication logic to allow non-signed-in users to download public folders.
Before long, Takeout faced "flag issues." Flags added for one of the instances would break the others, and their deployments would break when servers could not start up due to configuration incompatibilities. Beyond feature configuration, there was security and ACL configuration, too. For example, the consumer Drive download service should not have access to keys that encrypt enterprise Gmail exports. Configuration quickly became complicated and led to nearly nightly breakages.
Some efforts were made to detangle and modularize configuration, but the bigger problem this exposed was that when a Takeout engineer wanted to make a code change, it was not practical to manually test that each server started up under each configuration. They didn't find out about configuration failures until the next day's deploy. There were unit tests that ran on presubmit and post-submit (by TAP), but those weren't sufficient to catch these kinds of issues.
What the team did
The team created temporary, sandboxed mini-environments for each of these instances that ran on presubmit and tested that all servers were healthy on startup. Running the temporary environments on presubmit prevented 95% of broken servers from bad configuration and reduced nightly deployment failures by 50%.
Although these new sandboxed presubmit tests dramatically reduced deployment failures, they didn't remove them entirely. In particular, Takeout's end-to-end tests would still frequently break the deploy, and these tests were difficult to run on presubmit (because they use test accounts, which still behave like real accounts in some respects and are subject to the same security and privacy safeguards). Redesigning them to be presubmit friendly would have been too big an undertaking.
If the team couldn't run end-to-end tests in presubmit, when could it run them? It wanted to get end-to-end test results more quickly than the next day's dev deploy and decided every two hours was a good starting point. But the team didn't want to do a full dev deploy this often—this would incur overhead and disrupt long-running processes that engineers were testing in dev. Making a new shared test environment for these tests also seemed like too much overhead to provision resources for, plus culprit finding (i.e., finding the deployment that led to a failure) could involve some undesirable manual work.
So, the team reused the sandboxed environments from presubmit, easily extending them to a new post-submit environment. Unlike presubmit, post-submit was compliant with security safeguards to use the test accounts (for one, because the code has been approved), so the end-to-end tests could be run there. The post-submit CI runs every two hours, grabbing the latest code and configuration from green head, creates an RC, and runs the same end-to-end test suite against it that is already run in dev.
Lesson learned
Faster feedback loops prevent problems in dev deploys:
Moving tests for different Takeout products from "after nightly deploy" to presubmit prevented 95% of broken servers from bad configuration and reduced nightly deployment failures by 50%.

Though end-to-end tests couldn't be moved all the way to presubmit, they were still moved from "after nightly deploy" to "post-submit within two hours." This effectively cut the "culprit set" by 12 times.
Scenario #2: Indecipherable test logs
Problem: As Takeout incorporated more Google products, it grew into a mature platform that allowed product teams to insert plug-ins, with product-specific data-fetching code, directly into Takeout's binary. For example, the Google Photos plug-in knows how to fetch photos, album metadata, and the like. Takeout expanded from its original "handful" of products to now integrate with more than 90.
Takeout's end-to-end tests dumped its failures to a log, and this approach didn't scale to 90 product plug-ins. As more products integrated, more failures were introduced. Even though the team was running the tests earlier and more often with the addition of the post-submit CI, multiple failures would still pile up inside and were easy to miss. Going through these logs became a frustrating time sink, and the tests were almost always failing.
What the team did
The team refactored the tests into a dynamic, configuration-based suite (using a parameterized test runner) that reported results in a friendlier UI, clearly showing individual test results as green or red: no more digging through logs. They also made failures much easier to debug, most notably, by displaying failure information, with links to logs, directly in the error message. For example, if Takeout failed to fetch a file from Gmail, the test would dynamically construct a link that searched for that file's ID in the Takeout logs and include it in the test failure message. This automated much of the debugging process for product plug-in engineers and required less of the Takeout team's assistance in sending them logs, as demonstrated in Figure 23-3.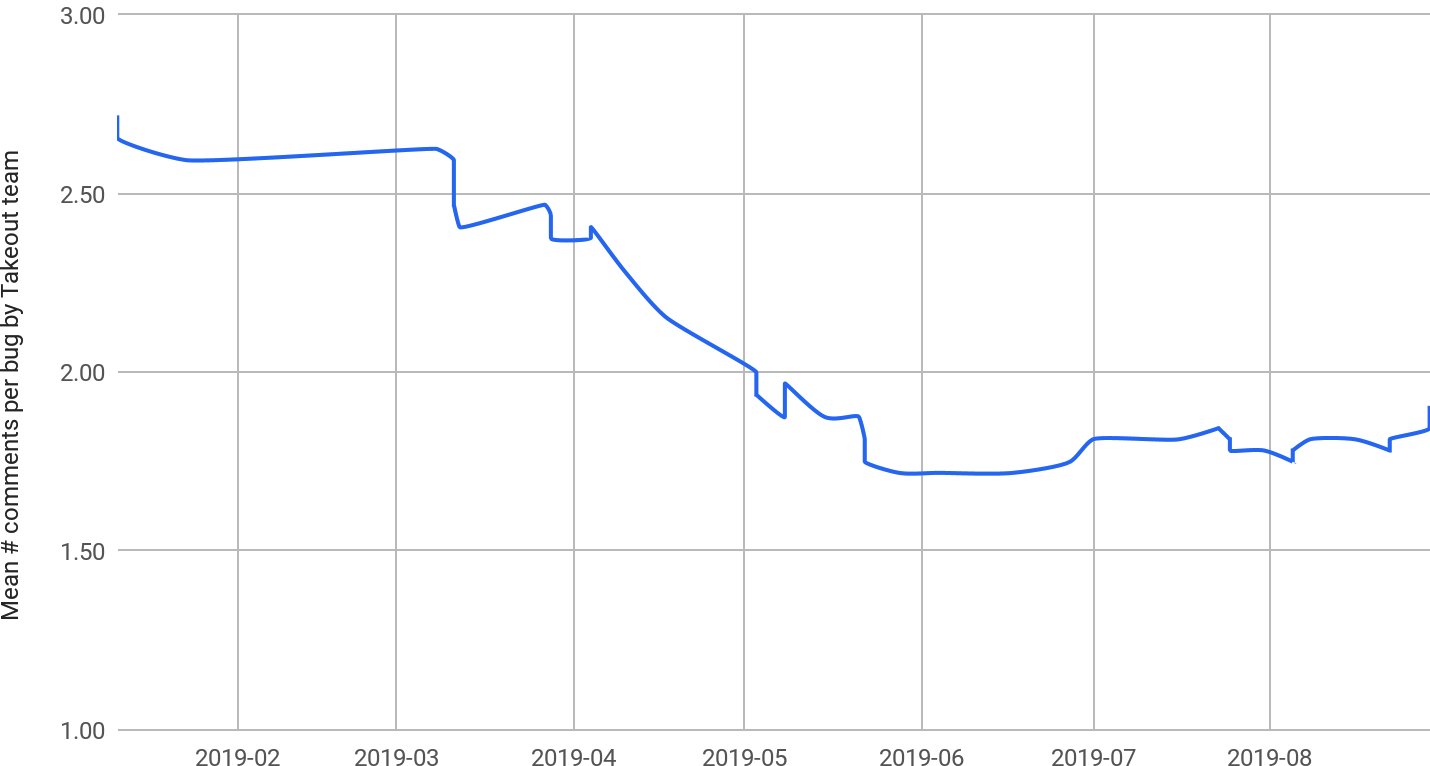 Lesson learned
Accessible, actionable feedback from CI reduces test failures and improves productivity. These initiatives reduced the Takeout team's involvement in debugging client (product plug-in) test failures by 35%.
Scenario #3: Debugging "all of Google"
Problem: An interesting side effect of the Takeout CI that the team did not anticipate was that, because it verified the output of 90-some odd end-user–facing products, in the form of an archive, they were basically testing "all of Google" and catching issues that had nothing to do with Takeout. This was a good thing—Takeout was able to help contribute to the quality of Google's products overall. However, this introduced a problem for their CI processes: they needed better failure isolation so that they could determine which problems were in their build (which were the minority) and which lay in loosely coupled microservices behind the product APIs they called.
What the team did
The team's solution was to run the exact same test suite continuously against production as it already did in its post-submit CI. This was cheap to implement and allowed the team to isolate which failures were new in its build and which were in production; for instance, the result of a microservice release somewhere else "in Google."
Lesson learned
Running the same test suite against prod and a post-submit CI (with newly built binaries, but the same live backends) is a cheap way to isolate failures.
Remaining challenge
Going forward, the burden of testing "all of Google" (obviously, this is an exaggeration, as most product problems are caught by their respective teams) grows as Takeout integrates with more products and as those products become more complex. Manual comparisons between this CI and prod are an expensive use of the Build Cop's time.
Future improvement
This presents an interesting opportunity to try hermetic testing with record/replay in Takeout's post-submit CI. In theory, this would eliminate failures from backend product APIs surfacing in Takeout's CI, which would make the suite more stable and effective at catching failures in the last two hours of Takeout changes—which is its intended purpose.
Scenario #4: Keeping it green
Problem: As the platform supported more product plug-ins, which each included end-to-end tests, these tests would fail and the end-to-end test suites were nearly always broken. The failures could not all be immediately fixed. Many were due to bugs in product plug-in binaries, which the Takeout team had no control over. And some failures mattered more than others—low-priority bugs and bugs in the test code did not need to block a release, whereas higher-priority bugs did. The team could easily disable tests by commenting them out, but that would make the failures too easy to forget about.
One common source of failures: tests would break when product plug-ins were rolling out a feature. For example, a playlist-fetching feature for the YouTube plug-in might be enabled for testing in dev for a few months before being enabled in prod. The Takeout tests only knew about one result to check, so that often resulted in the test needing to be disabled in particular environments and manually curated as the feature rolled out.
What the team did
The team came up with a strategic way to disable failing tests by tagging them with an associated bug and filing that off to the responsible team (usually a product plug-in team). When a failing test was tagged with a bug, the team's testing framework would suppress its failure. This allowed the test suite to stay green and still provide confidence that everything else, besides the known issues, was passing, as illustrated in Figure 23-4.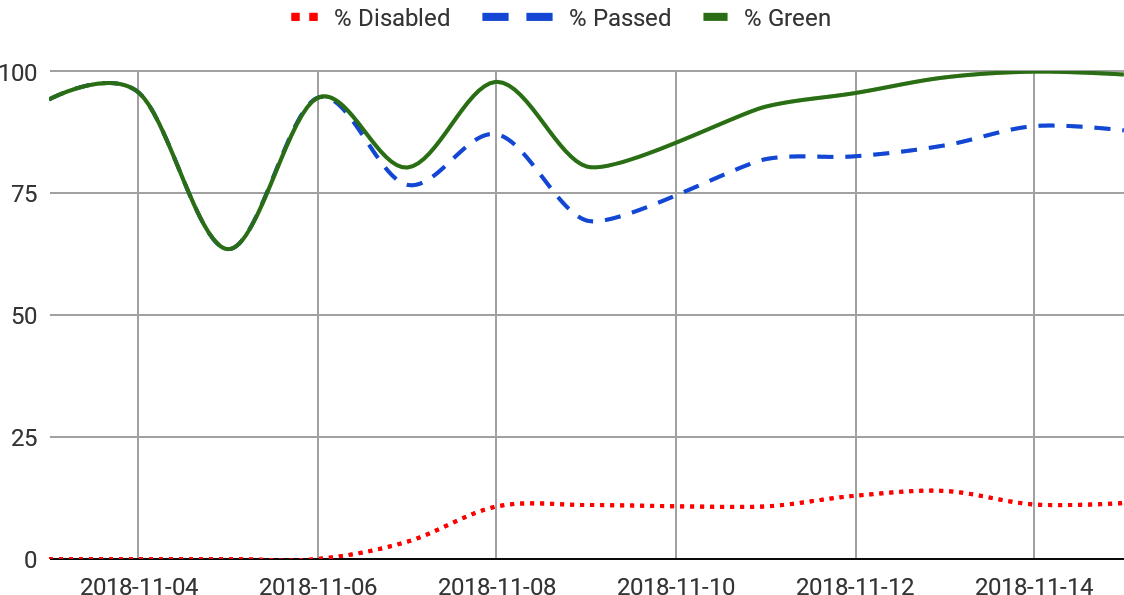 For the rollout problem, the team added capability for plug-in engineers to specify the name of a feature flag, or ID of a code change, that enabled a particular feature along with the output to expect both with and without the feature. The tests were equipped to query the test environment to determine whether the given feature was enabled there and verified the expected output accordingly.
When bug tags from disabled tests began to accumulate and were not updated, the team automated their cleanup. The tests would now check whether a bug was closed by querying our bug system's API. If a tagged-failing test actually passed and was passing for longer than a configured time limit, the test would prompt to clean up the tag (and mark the bug fixed, if it wasn't already). There was one exception for this strategy: flaky tests. For these, the team would allow a test to be tagged as flaky, and the system wouldn't prompt a tagged "flaky" failure for cleanup if it passed.
These changes made a mostly self-maintaining test suite, as illustrated in Figure 23-5.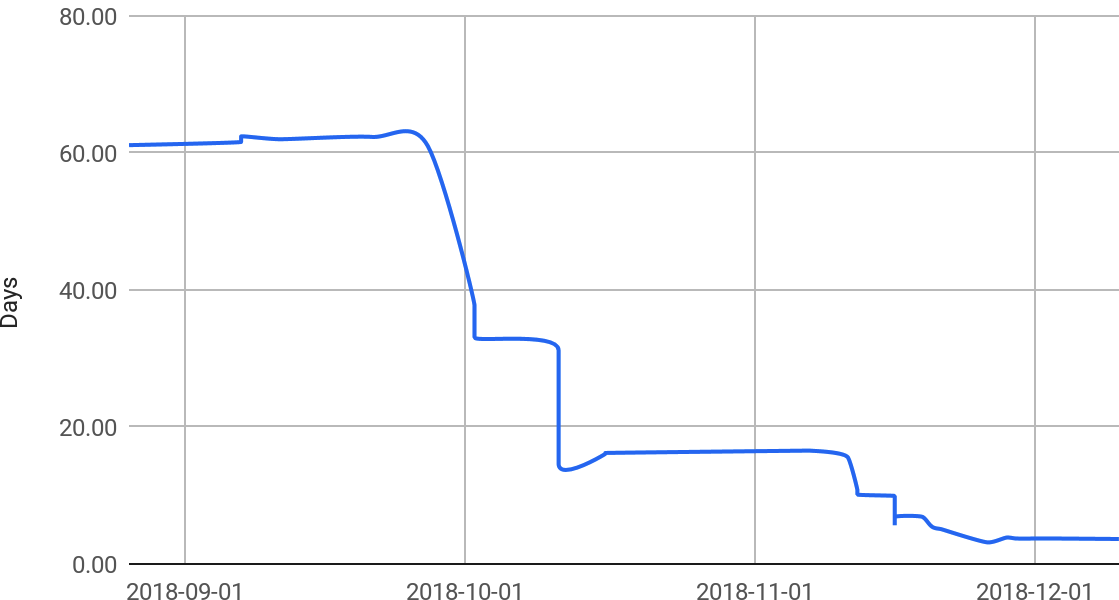 Lessons learned
Disabling failing tests that can't be immediately fixed is a practical approach to keeping your suite green, which gives confidence that you're aware of all test failures. Also, automating the test suite's maintenance, including rollout management and updating tracking bugs for fixed tests, keeps the suite clean and prevents technical debt. In DevOps parlance, we could call the metric in Figure 23-5 MTTCU: mean time to clean up.
Future improvement
Automating the filing and tagging of bugs would be a helpful next step. This is still a manual and burdensome process. As mentioned earlier, some of our larger teams already do this.
Further challenges
The scenarios we've described are far from the only CI challenges faced by Takeout, and there are still more problems to solve. For example, we mentioned the difficulty of isolating failures from upstream services in CI Challenges. This is a problem that Takeout still faces with rare breakages originating with upstream services, such as when a security update in the streaming infrastructure used by Takeout's "Drive folder downloads" API broke archive decryption when it deployed to production. The upstream services are staged and tested themselves, but there is no simple way to automatically check with CI if they are compatible with Takeout after they're launched into production. An initial solution involved creating an "upstream staging" CI environment to test production Takeout binaries against the staged versions of their upstream dependencies. However, this proved difficult to maintain, with additional compatibility issues between staging and production versions.
But I Can't Afford CI
You might be thinking that's all well and good, but you have neither the time nor money to build any of this. We certainly acknowledge that Google might have more resources to implement CI than the typical startup does. Yet many of our products have grown so quickly that they didn't have time to develop a CI system either (at least not an adequate one).
In your own products and organizations, try and think of the cost you are already paying for problems discovered and dealt with in production. These negatively affect the end user or client, of course, but they also affect the team. Frequent production fire-fighting is stressful and demoralizing. Although building out CI systems is expensive, it's not necessarily a new cost as much as a cost shifted left to an earlier—and more preferable—stage, reducing the incidence, and thus the cost, of problems occurring too far to the right. CI leads to a more stable product and happier developer culture in which engineers feel more confident that "the system" will catch problems, and they can focus more on features and less on fixing.
Conclusion
Even though we've described our CI processes and some of how we've automated them, none of this is to say that we have developed perfect CI systems. After all, a CI system itself is just software and is never complete and should be adjusted to meet the evolving demands of the application and engineers it is meant to serve. We've tried to illustrate this with the evolution of Takeout's CI and the future areas of improvement we point out.
TL;DRs
A CI system decides what tests to use, and when.

CI systems become progressively more necessary as your codebase ages and grows in scale.

CI should optimize quicker, more reliable tests on presubmit and slower, less deterministic tests on post-submit.
1https://www.martinfowler.com/articles/continuousIntegration.html
2Forsgren, Nicole, et al. (2018). Accelerate: The Science of Lean Software and DevOps: Building and Scaling High Performing Technology Organizations. IT Revolution.
3This is also sometimes called "shifting left on testing."
4Head is the latest versioned code in our monorepo. In other workflows, this is also referred to as master, mainline, or trunk. Correspondingly, integrating at head is also known as trunk-based development.
5At Google, release automation is managed by a separate system from TAP. We won't focus on how release automation assembles RCs, but if you're interested, we do refer you to Site Reliability Engineering (O'Reilly) in which our release automation technology (a system called Rapid) is discussed in detail.
6CD with experiments and feature flags is discussed further in Continuous Delivery.
7We call these "mid-air collisions" because the probability of it occurring is extremely low; however, when this does happen, the results can be quite surprising.
8Each team at Google configures a subset of its project's tests to run on presubmit (versus post-submit). In reality, our continuous build actually optimizes some presubmit tests to be saved for post-submit, behind the scenes. We'll further discuss this later on in this chapter.
9Aiming for 100% uptime is the wrong target. Pick something like 99.9% or 99.999% as a business or product trade-off, define and monitor your actual uptime, and use that "budget" as an input to how aggressively you're willing to push risky releases.
10We believe CI is actually critical to the software engineering ecosystem: a must-have, not a luxury. But that is not universally understood yet.
11In practice, it's often difficult to make a completely sandboxed test environment, but the desired stability can be achieved by minimizing outside dependencies.
12Any change to Google's codebase can be rolled back with two clicks!