Larger Testing
In previous chapters, we have recounted how a testing culture was established at Google and how small unit tests became a fundamental part of the developer workflow. But what about other kinds of tests? It turns out that Google does indeed use many larger tests, and these comprise a significant part of the risk mitigation strategy necessary for healthy software engineering. But these tests present additional challenges to ensure that they are valuable assets and not resource sinks. In this chapter, we'll discuss what we mean by "larger tests," when we execute them, and best practices for keeping them effective.
What Are Larger Tests?
As mentioned previously, Google has specific notions of test size. Small tests are restricted to one thread, one process, one machine. Larger tests do not have the same restrictions. But Google also has notions of test scope. A unit test necessarily is of smaller scope than an integration test. And the largest-scoped tests (sometimes called end-to-end or system tests) typically involve several real dependencies and fewer test doubles.
Larger tests are many things that small tests are not. They are not bound by the same constraints; thus, they can exhibit the following characteristics:
They may be slow. Our large tests have a default timeout of 15 minutes or 1 hour, but we also have tests that run for multiple hours or even days.

They may be nonhermetic. Large tests may share resources with other tests and traffic.

They may be nondeterministic. If a large test is nonhermetic, it is almost impossible to guarantee determinism: other tests or user state may interfere with it.
So why have larger tests? Reflect back on your coding process. How do you confirm that the programs you write actually work? You might be writing and running unit tests as you go, but do you find yourself running the actual binary and trying it out yourself? And when you share this code with others, how do they test it? By running your unit tests, or by trying it out themselves?
Also, how do you know that your code continues to work during upgrades? Suppose that you have a site that uses the Google Maps API and there's a new API version. Your unit tests likely won't help you to know whether there are any compatibility issues. You'd probably run it and try it out to see whether anything broke.
Unit tests can give you confidence about individual functions, objects, and modules, but large tests provide more confidence that the overall system works as intended. And having actual automated tests scales in ways that manual testing does not.
Fidelity
The primary reason larger tests exist is to address fidelity. Fidelity is the property by which a test is reflective of the real behavior of the system under test (SUT).
One way of envisioning fidelity is in terms of the environment. As Figure 14-1 illustrates, unit tests bundle a test and a small portion of code together as a runnable unit, which ensures the code is tested but is very different from how production code runs. Production itself is, naturally, the environment of highest fidelity in testing. There is also a spectrum of interim options. A key for larger tests is to find the proper fit, because increasing fidelity also comes with increasing costs and (in the case of production) increasing risk of failure.

Tests can also be measured in terms of how faithful the test content is to reality. Many handcrafted, large tests are dismissed by engineers if the test data itself looks unrealistic. Test data copied from production is much more faithful to reality (having been captured that way), but a big challenge is how to create realistic test traffic before launching the new code. This is particularly a problem in artificial intelligence (AI), for which the "seed" data often suffers from intrinsic bias. And, because most data for unit tests is handcrafted, it covers a narrow range of cases and tends to conform to the biases of the author. The uncovered scenarios missed by the data represent a fidelity gap in the tests.
Common Gaps in Unit Tests
Larger tests might also be necessary where smaller tests fail. The subsections that follow present some particular areas where unit tests do not provide good risk mitigation coverage.
Why Not Have Larger Tests?
In earlier chapters, we discussed many of the properties of a developer-friendly test. In particular, it needs to be as follows:
Reliable

It must not be flaky and it must provide a useful pass/fail signal.

Fast

It needs to be fast enough to not interrupt the developer workflow.

Scalable

Google needs to be able to run all such useful affected tests efficiently for presubmits and for post-submits.
Good unit tests exhibit all of these properties. Larger tests often violate all of these constraints. For example, larger tests are often flakier because they use more infrastructure than does a small unit test. They are also often much slower, both to set up as well as to run. And they have trouble scaling because of the resource and time requirements, but often also because they are not isolated—these tests can collide with one another.
Additionally, larger tests present two other challenges. First, there is a challenge of ownership. A unit test is clearly owned by the engineer (and team) who owns the unit. A larger test spans multiple units and thus can span multiple owners. This presents a long-term ownership challenge: who is responsible for maintaining the test and who is responsible for diagnosing issues when the test breaks? Without clear ownership, a test rots.
The second challenge for larger tests is one of standardization (or the lack thereof). Unlike unit tests, larger tests suffer a lack of standardization in terms of the infrastructure and process by which they are written, run, and debugged. The approach to larger tests is a product of a system's architectural decisions, thus introducing variance in the type of tests required. For example, the way we build and run A-B diff regression tests in Google Ads is completely different from the way such tests are built and run in Search backends, which is different again from Drive. They use different platforms, different languages, different infrastructures, different libraries, and competing testing frameworks.
This lack of standardization has a significant impact. Because larger tests have so many ways of being run, they often are skipped during large-scale changes. (See Large-Scale Changes.) The infrastructure does not have a standard way to run those tests, and asking the people executing LSCs to know the local particulars for testing on every team doesn't scale. Because larger tests differ in implementation from team to team, tests that actually test the integration between those teams require unifying incompatible infrastructures. And because of this lack of standardization, we cannot teach a single approach to Nooglers (new Googlers) or even more experienced engineers, which both perpetuates the situation and also leads to a lack of understanding about the motivations of such tests.
Larger Tests at Google
When we discussed the history of testing at Google earlier (see Testing Overview), we mentioned how Google Web Server (GWS) mandated automated tests in 2003 and how this was a watershed moment. However, we actually had automated tests in use before this point, but a common practice was using automated large and enormous tests. For example, AdWords created an end-to-end test back in 2001 to validate product scenarios. Similarly, in 2002, Search wrote a similar "regression test" for its indexing code, and AdSense (which had not even publicly launched yet) created its variation on the AdWords test.
Other "larger" testing patterns also existed circa 2002. The Google search frontend relied heavily on manual QA—manual versions of end-to-end test scenarios. And Gmail got its version of a "local demo" environment—a script to bring up an end-to-end Gmail environment locally with some generated test users and mail data for local manual testing.
When C/J Build (our first continuous build framework) launched, it did not distinguish between unit tests and other tests, but there were two critical developments that led to a split. First, Google focused on unit tests because we wanted to encourage the testing pyramid and to ensure the vast majority of written tests were unit tests. Second, when TAP replaced C/J Build as our formal continuous build system, it was only able to do so for tests that met TAP's eligibility requirements: hermetic tests buildable at a single change that could run on our build/test cluster within a maximum time limit. Although most unit tests satisfied this requirement, larger tests mostly did not. However, this did not stop the need for other kinds of tests, and they have continued to fill the coverage gaps. C/J Build even stuck around for years specifically to handle these kinds of tests until newer systems replaced it.
Larger Tests and Time
Throughout this book, we have looked at the influence of time on software engineering, because Google has built software running for more than 20 years. How are larger tests influenced by the time dimension? We know that certain activities make more sense the longer the expected lifespan of code, and testing of various forms is an activity that makes sense at all levels, but the test types that are appropriate change over the expected lifetime of code.
As we pointed out before, unit tests begin to make sense for software with an expected lifespan from hours on up. At the minutes level (for small scripts), manual testing is most common, and the SUT usually runs locally, but the local demo likely is production, especially for one-off scripts, demos, or experiments. At longer lifespans, manual testing continues to exist, but the SUTs usually diverge because the production instance is often cloud hosted instead of locally hosted.
The remaining larger tests all provide value for longer-lived software, but the main concern becomes the maintainability of such tests as time increases.
Incidentally, this time impact might be one reason for the development of the "ice cream cone" testing antipattern, as mentioned in the Testing Overview and shown again in Figure 14-2.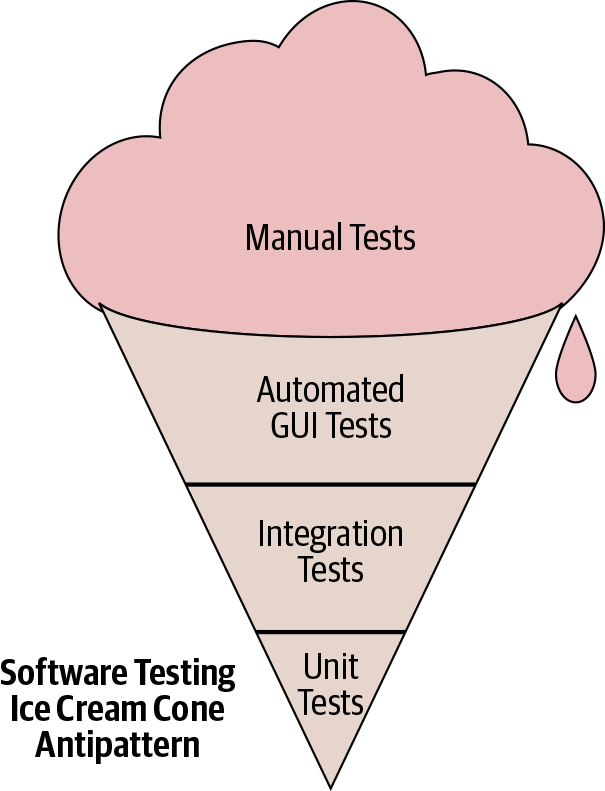 When development starts with manual testing (when engineers think that code is meant to last only for minutes), those manual tests accumulate and dominate the initial overall testing portfolio. For example, it's pretty typical to hack on a script or an app and test it out by running it, and then to continue to add features to it but continue to test it out by running it manually. This prototype eventually becomes functional and is shared with others, but no automated tests actually exist for it.
Even worse, if the code is difficult to unit test (because of the way it was implemented in the first place), the only automated tests that can be written are end-to-end ones, and we have inadvertently created "legacy code" within days.
It is critical for longer-term health to move toward the test pyramid within the first few days of development by building out unit tests, and then to top it off after that point by introducing automated integration tests and moving away from manual end-to-end tests. We succeeded by making unit tests a requirement for submission, but covering the gap between unit tests and manual tests is necessary for long-term health.
Larger Tests at Google Scale
It would seem that larger tests should be more necessary and more appropriate at larger scales of software, but even though this is so, the complexity of authoring, running, maintaining, and debugging these tests increases with the growth in scale, even more so than with unit tests.
In a system composed of microservices or separate servers, the pattern of interconnections looks like a graph: let the number of nodes in that graph be our N. Every time a new node is added to this graph, there is a multiplicative effect on the number of distinct execution paths through it.
Figure 14-3 depicts an imagined SUT: this system consists of a social network with users, a social graph, a stream of posts, and some ads mixed in. The ads are created by advertisers and served in the context of the social stream. This SUT alone consists of two groups of users, two UIs, three databases, an indexing pipeline, and six servers. There are 14 edges enumerated in the graph. Testing all of the end-to-end possibilities is already difficult. Imagine if we add more services, pipelines, and databases to this mix: photos and images, machine learning photo analysis, and so on?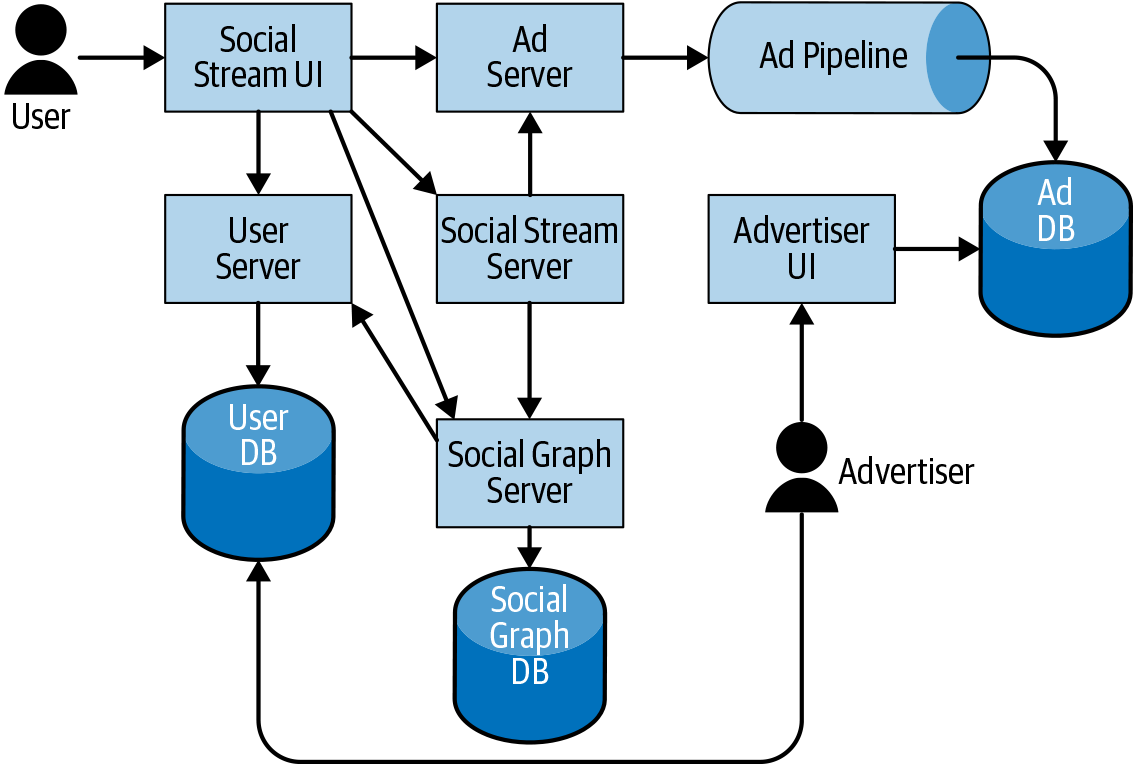 The rate of distinct scenarios to test in an end-to-end way can grow exponentially or combinatorially depending on the structure of the system under test, and that growth does not scale. Therefore, as the system grows, we must find alternative larger testing strategies to keep things manageable.
However, the value of such tests also increases because of the decisions that were necessary to achieve this scale. This is an impact of fidelity: as we move toward larger-N layers of software, if the service doubles are lower fidelity (1-epsilon), the chance of bugs when putting it all together is exponential in N. Looking at this example SUT again, if we replace the user server and ad server with doubles and those doubles are low fidelity (e.g., 10% accurate), the likelihood of a bug is 99% (1 – (0.1 ∗ 0.1)). And that's just with two low-fidelity doubles.
Therefore, it becomes critical to implement larger tests in ways that work well at this scale but maintain reasonably high fidelity.
Structure of a Large Test
Although large tests are not bound by small test constraints and could conceivably consist of anything, most large tests exhibit common patterns. Large tests usually consist of a workflow with the following phases:
Obtain a system under test

Seed necessary test data

Perform actions using the system under test

Verify behaviors
The System Under Test
One key component of large tests is the aforementioned SUT (see Figure 14-5). A typical unit test focuses its attention on one class or module. Moreover, the test code runs in the same process (or Java Virtual Machine [JVM], in the Java case) as the code being tested. For larger tests, the SUT is often very different; one or more separate processes with test code often (but not always) in its own process.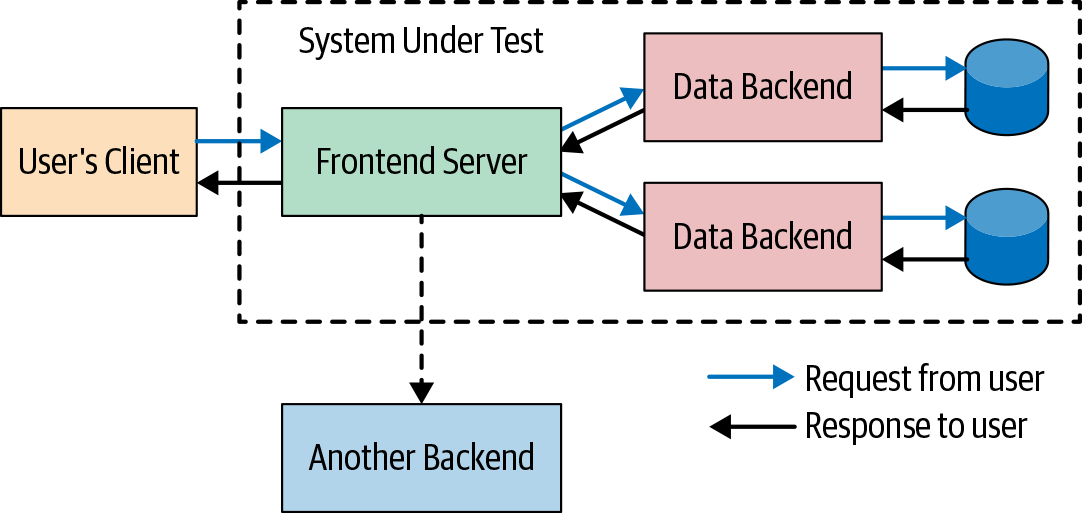 At Google, we use many different forms of SUTs, and the scope of the SUT is one of the primary drivers of the scope of the large test itself (the larger the SUT, the larger the test). Each SUT form can be judged based on two primary factors:
Hermeticity

This is the SUT's isolation from usages and interactions from other components than the test in question. An SUT with high hermeticity will have the least exposure to sources of concurrency and infrastructure flakiness.

Fidelity
Often these two factors are in direct conflict.
Following are some examples of SUTs:
Single-process SUT

Single-machine SUT

Multimachine SUT

Shared environments (staging and production)

Hybrids
The benefits of hermetic SUTs
The SUT in a large test can be a major source of both unreliability and long turnaround time. For example, an in-production test uses the actual production system deployment. As mentioned earlier, this is popular because there is no extra overhead cost for the environment, but production tests cannot be run until the code reaches that environment, which means those tests cannot themselves block the release of the code to that environment—the SUT is too late, essentially.
The most common first alternative is to create a giant shared staging environment and to run tests there. This is usually done as part of some release promotion process, but it again limits test execution to only when the code is available. As an alternative, some teams will allow engineers to "reserve" time in the staging environment and to use that time window to deploy pending code and to run tests, but this does not scale with a growing number of engineers or a growing number of services, because the environment, its number of users, and the likelihood of user conflicts all quickly grow.
The next step is to support cloud-isolated or machine-hermetic SUTs. Such an environment improves the situation by avoiding the conflicts and reservation requirements for code release.
Reducing the size of your SUT at problem boundaries
There are particularly painful testing boundaries that might be worth avoiding. Tests that involve both frontends and backends become painful because user interface (UI) tests are notoriously unreliable and costly:
UIs often change in look-and-feel ways that make UI tests brittle but do not actually impact the underlying behavior.

UIs often have asynchronous behaviors that are difficult to test.
Although it is useful to have end-to-end tests of a UI of a service all the way to its backend, these tests have a multiplicative maintenance cost for both the UI and the backends. Instead, if the backend provides a public API, it is often easier to split the tests into connected tests at the UI/API boundary and to use the public API to drive the end-to-end tests. This is true whether the UI is a browser, command-line interface (CLI), desktop app, or mobile app.
Another special boundary is for third-party dependencies. Third-party systems might not have a public shared environment for testing, and in some cases, there is a cost with sending traffic to a third party. Therefore, it is not recommended to have automated tests use a real third-party API, and that dependency is an important seam at which to split tests.
To address this issue of size, we have made this SUT smaller by replacing its databases with in-memory databases and removing one of the servers outside the scope of the SUT that we actually care about, as shown in Figure 14-6. This SUT is more likely to fit on a single machine.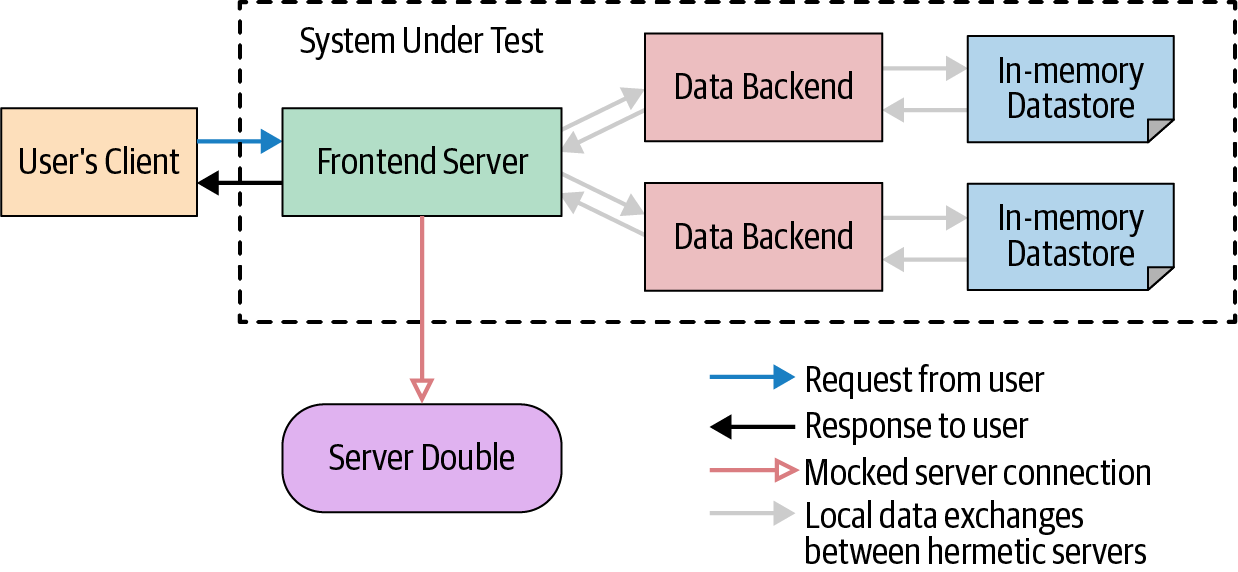 The key is to identify trade-offs between fidelity and cost/reliability, and to identify reasonable boundaries. If we can run a handful of binaries and a test and pack it all into the same machines that do our regular compiles, links, and unit test executions, we have the easiest and most stable "integration" tests for our engineers.
Record/replay proxies
In the previous chapter, we discussed test doubles and approaches that can be used to decouple the class under test from its difficult-to-test dependencies. We can also double entire servers and processes by using a mock, stub, or fake server or process with the equivalent API. However, there is no guarantee that the test double used actually conforms to the contract of the real thing that it is replacing.
One way of dealing with an SUT's dependent but subsidiary services is to use a test double, but how does one know that the double reflects the dependency's actual behavior? A growing approach outside of Google is to use a framework for consumer-driven contract tests. These are tests that define a contract for both the client and the provider of the service, and this contract can drive automated tests. That is, a client defines a mock of the service saying that, for these input arguments, I get a particular output. Then, the real service uses this input/output pair in a real test to ensure that it produces that output given those inputs. Two public tools for consumer-driven contract testing are Pact Contract Testing and Spring Cloud Contracts. Google's heavy dependency on protocol buffers means that we don't use these internally.
At Google, we do something a little bit different. Our most popular approach (for which there is a public API) is to use a larger test to generate a smaller one by recording the traffic to those external services when running the larger test and replaying it when running smaller tests. The larger, or "Record Mode" test runs continuously on post-submit, but its primary purpose is to generate these traffic logs (it must pass, however, for the logs to be generated). The smaller, or "Replay Mode" test is used during development and presubmit testing.
One of the interesting aspects of how record/replay works is that, because of nondeterminism, requests must be matched via a matcher to determine which response to replay. This makes them very similar to stubs and mocks in that argument matching is used to determine the resulting behavior.
What happens for new tests or tests where the client behavior changes significantly? In these cases, a request might no longer match what is in the recorded traffic file, so the test cannot pass in Replay mode. In that circumstance, the engineer must run the test in Record mode to generate new traffic, so it is important to make running Record tests easy, fast, and stable.
Test Data
A test needs data, and a large test needs two different kinds of data:
Seeded data

Data preinitialized into the system under test reflecting the state of the SUT at the inception of the test

Test traffic
Because of the notion of the separate and larger SUT, the work to seed the SUT state is often orders of magnitude more complex than the setup work done in a unit test. For example:
Domain data

Some databases contain data prepopulated into tables and used as configuration for the environment. Actual service binaries using such a database may fail on startup if domain data is not provided.

Realistic baseline

For an SUT to be perceived as realistic, it might require a realistic set of base data at startup, both in terms of quality and quantity. For example, large tests of a social network likely need a realistic social graph as the base state for tests: enough test users with realistic profiles as well as enough interconnections between those users must exist for the testing to be accepted.

Seeding APIs

The APIs by which data is seeded may be complex. It might be possible to directly write to a datastore, but doing so might bypass triggers and checks performed by the actual binaries that perform the writes.
Data can be generated in different ways, such as the following:
Handcrafted data

Like for smaller tests, we can create test data for larger tests by hand. But it might require more work to set up data for multiple services in a large SUT, and we might need to create a lot of data for larger tests.

Copied data

We can copy data, typically from production. For example, we might test a map of Earth by starting with a copy of our production map data to provide a baseline and then test our changes to it.

Sampled data

Copying data can provide too much data to reasonably work with. Sampling data can reduce the volume, thus reducing test time and making it easier to reason about. "Smart sampling" consists of techniques to copy the minimum data necessary to achieve maximum coverage.
Verification
After an SUT is running and traffic is sent to it, we must still verify the behavior. There are a few different ways to do this:
Manual

Much like when you try out your binary locally, manual verification uses humans to interact with an SUT to determine whether it functions correctly. This verification can consist of testing for regressions by performing actions as defined on a consistent test plan or it can be exploratory, working a way through different interaction paths to identify possible new failures.

Note that manual regression testing does not scale sublinearly: the larger a system grows and the more journeys through it there are, the more human time is needed to manually test.

Assertions

Much like with unit tests, these are explicit checks about the intended behavior of the system. For example, for an integration test of Google search of xyzzy, an assertion might be as follows:


assertThat(response.Contains("Colossal Cave"))

A/B comparison (differential)
Types of Larger Tests
We can now combine these different approaches to the SUT, data, and assertions to create different kinds of large tests. Each test then has different properties as to which risks it mitigates; how much toil is required to write, maintain, and debug it; and how much it costs in terms of resources to run.
What follows is a list of different kinds of large tests that we use at Google, how they are composed, what purpose they serve, and what their limitations are:
Functional testing of one or more binaries

Browser and device testing

Performance, load, and stress testing

Deployment configuration testing

Exploratory testing

A/B diff (regression) testing

User acceptance testing (UAT)

Probers and canary analysis

Disaster recovery and chaos engineering

User evaluation
Given such a wide number of combinations and thus a wide range of tests, how do we manage what to do and when? Part of designing software is drafting the test plan, and a key part of the test plan is a strategic outline of what types of testing are needed and how much of each. This test strategy identifies the primary risk vectors and the necessary testing approaches to mitigate those risk vectors.
At Google, we have a specialized engineering role of "Test Engineer," and one of the things we look for in a good test engineer is the ability to outline a test strategy for our products.
Large Tests and the Developer Workflow
We've talked about what large tests are, why to have them, when to have them, and how much to have, but we have not said much about the who. Who writes the tests? Who runs the tests and investigates the failures? Who owns the tests? And how do we make this tolerable?
Although standard unit test infrastructure might not apply, it is still critical to integrate larger tests into the developer workflow. One way of doing this is to ensure that automated mechanisms for presubmit and post-submit execution exist, even if these are different mechanisms than the unit test ones. At Google, many of these large tests do not belong in TAP. They are nonhermetic, too flaky, and/or too resource intensive. But we still need to keep them from breaking or else they provide no signal and become too difficult to triage. What we do, then, is to have a separate post-submit continuous build for these. We also encourage running these tests presubmit, because that provides feedback directly to the author.
A/B diff tests that require manual blessing of diffs can also be incorporated into such a workflow. For presubmit, it can be a code-review requirement to approve any diffs in the UI before approving the change. One such test we have files release-blocking bugs automatically if code is submitted with unresolved diffs.
In some cases, tests are so large or painful that presubmit execution adds too much developer friction. These tests still run post-submit and are also run as part of the release process. The drawback to not running these presubmit is that the taint makes it into the monorepo and we need to identify the culprit change to roll it back. But we need to make the trade-off between developer pain and the incurred change latency and the reliability of the continuous build.
Running Large Tests
We mentioned above how our larger tests don't fit in TAP and so we have alternate continuous builds and presubmits for them. One of the initial challenges for our engineers is how to even run nonstandard tests and how to iterate on them.
As much as possible, we have tried to make our larger tests run in ways familiar for our engineers. Our presubmit infrastructure puts a common API in front of both running these tests and running TAP tests, and our code review infrastructure shows both sets of results. But many large tests are bespoke and thus need specific documentation for how to run them on demand. This can be a source of frustration for unfamiliar engineers.
Speeding up tests
Engineers don't wait for slow tests. The slower a test is, the less frequently an engineer will run it, and the longer the wait after a failure until it is passing again.
The best way to speed up a test is often to reduce its scope or to split a large test into two smaller tests that can run in parallel. But there are some other tricks that you can do to speed up larger tests.
Some naive tests will use time-based sleeps to wait for nondeterministic action to occur, and this is quite common in larger tests. However, these tests do not have thread limitations, and real production users want to wait as little as possible, so it is best for tests to react the way real production users would. Approaches include the following:
Polling for a state transition repeatedly over a time window for an event to complete with a frequency closer to microseconds. You can combine this with a timeout value in case a test fails to reach a stable state.

Implementing an event handler.

Subscribing to a notification system for an event completion.
Note that tests that rely on sleeps and timeouts will all start failing when the fleet running those tests becomes overloaded, which spirals because those tests need to be rerun more often, increasing the load further.
Lower internal system timeouts and delays

A production system is usually configured assuming a distributed deployment topology, but an SUT might be deployed on a single machine (or at least a cluster of colocated machines). If there are hardcoded timeouts or (especially) sleep statements in the production code to account for production system delay, these should be made tunable and reduced when running tests.

Optimize test build time

One downside of our monorepo is that all of the dependencies for a large test are built and provided as inputs, but this might not be necessary for some larger tests. If the SUT is composed of a core part that is truly the focus of the test and some other necessary peer binary dependencies, it might be possible to use prebuilt versions of those other binaries at a known good version. Our build system (based on the monorepo) does not support this model easily, but the approach is actually more reflective of production in which different services release at different versions.
Driving out flakiness
Flakiness is bad enough for unit tests, but for larger tests, it can make them unusable. A team should view eliminating flakiness of such tests as a high priority. But how can flakiness be removed from such tests?
Minimizing flakiness starts with reducing the scope of the test—a hermetic SUT will not be at risk of the kinds of multiuser and real-world flakiness of production or a shared staging environment, and a single-machine hermetic SUT will not have the network and deployment flakiness issues of a distributed SUT. But you can mitigate other flakiness issues through test design and implementation and other techniques. In some cases, you will need to balance these with test speed.
Just as making tests reactive or event driven can speed them up, it can also remove flakiness. Timed sleeps require timeout maintenance, and these timeouts can be embedded in the test code. Increasing internal system timeouts can reduce flakiness, whereas reducing internal timeouts can lead to flakiness if the system behaves in a nondeterministic way. The key here is to identify a trade-off that defines both a tolerable system behavior for end users (e.g., our maximum allowable timeout is n seconds) but handles flaky test execution behaviors well.
A bigger problem with internal system timeouts is that exceeding them can lead to difficult errors to triage. A production system will often try to limit end-user exposure to catastrophic failure by handling possible internal system issues gracefully. For example, if Google cannot serve an ad in a given time limit, we don't return a 500, we just don't serve an ad. But this looks to a test runner as if the ad-serving code might be broken when there is just a flaky timeout issue. It's important to make the failure mode obvious in this case and to make it easy to tune such internal timeouts for test scenarios.
Making tests understandable
A specific case for which it can be difficult to integrate tests into the developer workflow is when those tests produce results that are unintelligible to the engineer running the tests. Even unit tests can produce some confusion—if my change breaks your test, it can be difficult to understand why if I am generally unfamiliar with your code—but for larger tests, such confusion can be insurmountable. Tests that are assertive must provide a clear pass/fail signal and must provide meaningful error output to help triage the source of failure. Tests that require human investigation, like A/B diff tests, require special handling to be meaningful or else risk being skipped during presubmit.
How does this work in practice? A good large test that fails should do the following:
Have a message that clearly identifies what the failure is

The worst-case scenario is to have an error that just says "Assertion failed" and a stack trace. A good error anticipates the test runner's unfamiliarity with the code and provides a message that gives context: "In test_ReturnsOneFullPageOfSearchResultsForAPopularQuery, expected 10 search results but got 1." For a performance or A/B diff test that fails, there should be a clear explanation in the output of what is being measured and why the behavior is considered suspect.

Minimize the effort necessary to identify the root cause of the discrepancy

A stack trace is not useful for larger tests because the call chain can span multiple process boundaries. Instead, it's necessary to produce a trace across the call chain or to invest in automation that can narrow down the culprit. The test should produce some kind of artifact to this effect. For example, Dapper is a framework used by Google to associate a single request ID with all the requests in an RPC call chain, and all of the associated logs for that request can be correlated by that ID to facilitate tracing.

Provide support and contact information.
Owning Large Tests
Larger tests must have documented owners—engineers who can adequately review changes to the test and who can be counted on to provide support in the case of test failures. Without proper ownership, a test can fall victim to the following:
It becomes more difficult for contributors to modify and update the test

It takes longer to resolve test failures
And the test rots.
Integration tests of components within a particular project should be owned by the project lead. Feature-focused tests (tests that cover a particular business feature across a set of services) should be owned by a "feature owner"; in some cases, this owner might be a software engineer responsible for the feature implementation end to end; in other cases it might be a product manager or a "test engineer" who owns the description of the business scenario. Whoever owns the test must be empowered to ensure its overall health and must have both the ability to support its maintenance and the incentives to do so.
It is possible to build automation around test owners if this information is recorded in a structured way. Some approaches that we use include the following:
Regular code ownership

In many cases, a larger test is a standalone code artifact that lives in a particular location in our codebase. In that case, we can use the OWNERS (Code Review) information already present in the monorepo to hint to automation that the owner(s) of a particular test are the owners of the test code.

Per-test annotations

In some cases, multiple test methods can be added to a single test class or module, and each of these test methods can have a different feature owner. We use per-language structured annotations to document the test owner in each of these cases so that if a particular test method fails, we can identify the owner to contact.
Conclusion
A comprehensive test suite requires larger tests, both to ensure that tests match the fidelity of the system under test and to address issues that unit tests cannot adequately cover. Because such tests are necessarily more complex and slower to run, care must be taken to ensure such larger tests are properly owned, well maintained, and run when necessary (such as before deployments to production). Overall, such larger tests must still be made as small as possible (while still retaining fidelity) to avoid developer friction. A comprehensive test strategy that identifies the risks of a system, and the larger tests that address them, is necessary for most software projects.
TL;DRs
Larger tests cover things unit tests cannot.

Large tests are composed of a System Under Test, Data, Action, and Verification.

A good design includes a test strategy that identifies risks and larger tests that mitigate them.
1See Continuous Delivery and Compute as a Service for more information.
2James A. Whittaker, Exploratory Software Testing: Tips, Tricks, Tours, and Techniques to Guide Test Design (New York: Addison-Wesley Professional, 2009).
3During this test, almost no one could get anything done, so many people gave up on work and went to one of our many cafes, and in doing so, we ended up creating a DDoS attack on our cafe teams!